UPDATE: 911 Recordings in Deadly DUI Crash Involving Henry Ruggs, Tina Tintor Released
Las Vegas, NV (November 9, 2021) – Further details have been released after Henry Ruggs, III, a former wide receiver with the Las Vegas Raiders, allegedly caused a deadly auto accident that occurred early Tuesday, November 2, in Las Vegas.
Authorities provided nearly 10 minutes of 911 audio recordings from the morning of the fiery accident that left a young woman and her dog deceased.
The records, released Tuesday afternoon by Clark County officials, offer the initial information gathered as first responders arrived at the scene of the incident, which happened near Rainbow Boulevard and Spring Valley Parkway.
A Clark County firefighter initially radioed in that victims were trapped in a vehicle that had burst into flames.
The person inside the vehicle, later identified as Tina Tintor, was pronounced dead at the scene along with her dog, Max. Tintor's dog was riding in the back seat of her Toyota RAV4. Firefighters also reported that several witnesses had gathered at the scene and had attempted to rescue Tintor from her vehicle, though they were ultimately unable to get through the intense blaze.
Prosecutors expect to formally charge Ruggs, 22, at a Wednesday morning hearing with at least four felonies and one misdemeanor.
Per Las Vegas court records, Ruggs faces two felony counts, each of DUI and reckless driving, for the death of Tintor and the injuries his front-seat passenger, girlfriend Rudy Washington, sustained.
Prosecutors also intend to charge Ruggs with possession of a firearm while under the influence, as authorities have said a loaded weapon was found in Ruggs' Chevrolet Corvette Stingray after the wreck.
Ruggs faces up to 40 years in prison. Meanwhile, Ruggs has been placed under house arrest in his $1.1 million home, located several miles west of the Las Vegas Strip, since he posted bail last Wednesday. Under the conditions of his release, Ruggs is prohibited from driving and consuming alcohol or drugs. He is also required to undergo alcohol testing four times a day.
Shortly after the crash was reported, the Las Vegas Raiders released Ruggs from the team.
The former wide receiver's arrest report noted that he had been speeding up to 156 mph just seconds before ramming into the back of Tintor's Toyota RAV4. The impact ignited the RAV4's fuel tank, causing Tintor's SUV to burst into flames.
Tintor was on her way home after taking her dog on a walk and was only 2 miles from her house when she was killed.
The investigation is ongoing, and authorities expect to release more information in the coming weeks.
We would like to offer our deepest condolences to the family of Tina Tintor.
Deadly DUI Accidents in Nevada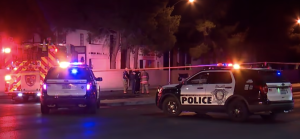 According to the National Highway Traffic Safety Administration, Nevada ranked in the top 15 states for fatal DUI accidents. Furthermore, the Silver State takes the number 12 spot when it comes to the frequency of these DUI wrecks countrywide.
In fact, these deadly DUI wrecks hit an all-time high in Nevada in 2018 alone. Authorities reported more than 330 alcohol-related traffic deaths on state roads and highways, marking a 6% increase over the previous year.
Sadly, victims and their families pay the price for other drivers' negligent actions. In fact, victims typically face serious financial roadblocks, long-term physical issues, and major emotional trauma.
Oftentimes, when victims succumb to their injuries, their grieving family members must cope with expensive medical and funerary costs, exacerbating the tragic circumstances they already face.
Thankfully, you can and should reach out to an auto accident lawyer in Las Vegas. If you sustained injuries in an accident or lost a loved one, you may have legal recourse. At Valiente Mott, we will fight for your maximum available amount of financial compensation. This compensation can cover your losses moving forward. That way, you and your loved ones never have to pay out of pocket.
Las Vegas Wrongful Death Claims
We know how difficult it is to move forward after experiencing a tragic auto accident. But the Las Vegas wrongful death lawyers at Valiente Mott are here for you in your time of need. Our legal team dedicates their lives to helping you and yours get the justice you deserve.
Don't let insurance adjusters determine the outcome of your accident claim. If you've suffered as a result of another driver's negligence, don't wait. Ensure that you retain a competent, skilled lawyer as soon as possible.
Our car accident lawyers in Las Vegas have spent years fighting for both the victims and their families. Please contact us at 702-296-5117 to schedule your free consultation at your earliest convenience. We're here to help you in your time of need.
Notes: Our team uses secondary sources when creating these posts. For that reason, we have not verified all of the facts surrounding each injury accident. If you locate any information that is not correct, please let us know right away so that we can correct the post to reflect the most accurate information about the accident. We will remove a post upon request.
Disclaimer: We write these posts to bring awareness to the dangers associated with driving in and around Nevada. We hope that these posts will remind our readers to practice safer driving habits and use an abundance of caution while operating a motor vehicle to prevent being injured in a serious accident. This post is not a solicitation for business. None of the information in this post is intended to be medical or legal advice. The photo used in this post was not taken at this actual accident scene.
https://valientemott.com/wp-content/uploads/2021/11/Screen-Shot-2021-11-10-at-11.00.11-AM.png
644
1394
Sandy Olds
https://valientemott.com/wp-content/uploads/2020/12/Valient-Mott-Web-Logo-1-300x66.png
Sandy Olds
2021-11-10 00:04:03
2022-03-22 21:50:56
UPDATE: 911 Recordings in Deadly DUI Crash Involving Henry Ruggs, Tina Tintor Released