UPDATE: Tina Tintor Identified in Deadly DUI Accident Involving Raiders WR Henry Ruggs III
Las Vegas, NV (November 3, 2021) – Further details have been released after former Las Vegas Raiders wide receiver, Henry Ruggs, III, allegedly caused a deadly vehicle accident that occurred early Tuesday, November 2.
Officers say that Ruggs was driving almost 156 miles per hour and had a blood alcohol content twice Nevada's legal limit when his car slammed into the rear of a Toyota Rav4. The Toyota then caught fire, killing a 23-year-old woman who was behind the wheel, according to prosecutors.
Ruggs, 22, also sustained injuries and was seated in a wheelchair with a foam brace on his neck during his initial court appearance on Wednesday. Authorities say felony charges of driving under the influence of alcohol resulting in death and reckless driving are pending against Ruggs.
Las Vegas Justice of the Peace Joe M. Bonaventure added that in 16 years on the bench, he had never heard of an accident involving a car that was traveling as fast as Ruggs' vehicle.
Prosecutor Eric Bauman requested to set Ruggs' bail at $1 million, but Bonaventure instead set the amount at $150,000 with strict conditions, including home confinement, electronic monitoring, no alcohol, no driving, and the surrender of Ruggs' passport.
Officers say the victim, Tina O. Tintor, died with her dog in the wreck. Airbag computer records showed that Ruggs' Corvette decelerated from 156 mph to 127 mph before crashing into Tintor's Toyota around 3:30 a.m., rupturing the vehicle's fuel tank and causing a fireball to ignite and engulf Tintor's car.
The Las Vegas Raiders released Ruggs late on Tuesday, just hours after the accident, and shortly after he was released from the hospital and booked into a Las Vegas jail. The extent of Ruggs' injuries is unknown, though he appeared to suffer leg and neck injuries. Ruggs' girlfriend, 22-year-old Kiara Je'nai Kilgo-Washington, was with him in the car and sustained major injuries. She underwent surgery for a severe arm wound, authorities added.
Officials say that they intend to file a second felony DUI charge against Ruggs related to the injuries to Kilgo-Washington. The district attorney said he might also file a weapon charge against Ruggs related to possessing a gun while under the influence. Ruggs had a loaded gun in his vehicle at the time of the wreck.
Bauman noted that Ruggs was uncooperative with police and medical workers when they responded to the accident, and Ruggs' blood-alcohol level taken within the required two hours after the wreck was 0.161%, more than double the legal limit in Nevada.
Investigators also learned that Ruggs spent several hours at TopGolf, a sports entertainment venue in Las Vegas, and may have been at a friend's home for several hours prior to the crash.
Bauman said that Ruggs could face up to 46 years behind bars if convicted.
We would like to offer our deepest condolences to the family of Tina O. Tintor at this time. Our thoughts are with Kiara Je'nai Kilgo-Washington in hopes of a full recovery.
Deadly DUI Auto Accidents in Nevada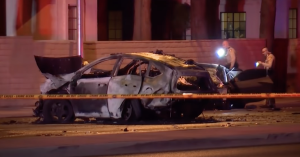 Officials say that Nevada was among the top 15 states for fatal DUI crashes. In fact, according to the National Highway Traffic Safety Administration, the Silver State is ranked 12th in the country for the number of fatal DUI collisions that occur between 9:00 a.m. and 3:00 p.m.
Unfortunately, these deadly DUI wrecks hit an all-time high in Nevada during the last several years. Moreover, Nevada authorities reported more than 300 alcohol-related traffic deaths on state roads and highways. This marks a nearly 6% increase when compared to previous years.
Victims and their families pay the price for other drivers' negligent actions. Oftentimes, when victims succumb to their injuries, their grieving family members must cope with expensive medical and funerary costs, exacerbating the tragic circumstances they already face.
Thankfully, you may have legal recourse. If you've been involved in a DUI accident or lost a loved one, you can and should reach out to an auto accident lawyer in Las Vegas. At Valiente Mott, we will fight for your maximum available amount of financial compensation. This compensation can cover your losses moving forward. That way, you and your loved ones never have to pay out of pocket.
Notes: Our team uses secondary sources when creating these posts. For that reason, we have not verified all of the facts surrounding each injury accident. If you locate any information that is not correct, please let us know right away so that we can correct the post to reflect the most accurate information about the accident. We will remove a post upon request.
Disclaimer: We write these posts to bring awareness to the dangers associated with driving in and around Nevada. We hope that these posts will remind our readers to practice safer driving habits and use an abundance of caution while operating a motor vehicle to prevent being injured in a serious accident. This post is not a solicitation for business. None of the information in this post is intended to be medical or legal advice. The photo used in this post was not taken at this actual accident scene.
https://valientemott.com/wp-content/uploads/2021/11/RuggsCrash.png
700
1334
Sandy Olds
https://valientemott.com/wp-content/uploads/2020/12/Valient-Mott-Web-Logo-1-300x66.png
Sandy Olds
2021-11-04 02:56:20
2022-04-10 22:05:38
UPDATE: Tina Tintor Identified in Deadly DUI Accident Involving Raiders WR Henry Ruggs III