$3,059,000
Car Accident Settlement
$3,025,500
Car Accident Settlement

$2,600,000
Car Accident Settlement
$1,000,000
Auto Accident Settlement
$1,000,000
Auto Accident Settlement
Las Vegas Car Accident Lawyer

In Nevada, 309 people died and 2,377 sustained serious injuries at intersections in Nevada from 2011 to 2015. These collisions were Nevada's leading cause of permanent disability. Unfortunately, Clark County has the highest number of traffic fatalities every year, accounting for 136 deaths in 2016.  Most of these collisions were caused by a driver's negligence.
People often assume catastrophic car collisions won't happen to them. Yet, thousands of unsuspecting people become victims in serious car wrecks every year, as every experienced auto accident attorney in Las Vegas knows too well.  Negligent drivers, unsafe roads, and other dangerous conditions put all of us at risk.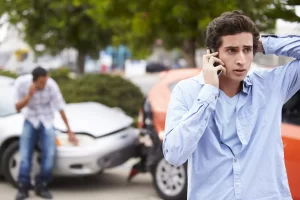 Navigate This Page
What To Do After an Auto Accident in Las Vegas
Information You Should Exchange With Other Driver
What To Do After an Auto Accident in Las Vegas
If you were involved in a collision and you suffered serious injuries, we encourage you to seek immediate medical treatment – your health is your top priority. Delaying medical care can result in worsened injuries and a longer recovery time. It can also work against you should you pursue a personal injury claim. The judge or jury could see your delay as proof that your injuries weren't severe or painful. Explain to your doctor what happened during your crash. Keep records of your medical bills, diagnosis, and treatment plan. Here is what to do after a crash:
Stop at the scene and offer assistance. It's illegal to leave the scene of a crash that resulted in injuries or property damage. You must stay on scene until you can legally leave. Otherwise, you risk a "hit-and-run" charge and penalties. Stop your vehicle, assess the situation, and offer help as appropriate.
If your car is blocking traffic and is drivable, move your vehicle out of the way. If you are in a minor crash and it is safe, push any incapacitated vehicles to the side of the road. Use your vehicle's hazard lights and set out cones or flashers if you have them to warn other drivers of the crash. If you can't move your vehicle off the road, don't stay with it. Move yourself to a safe place, away from traffic, while you wait for law enforcement to arrive.
Don't admit fault. Nevada is a "fault" state, meaning the driver who causes the crash will be financially liable for damages. It may not seem polite, but it's important you do not apologize to the other party or say the collision was your fault. Wait for an investigation from police or an insurance company to assign fault. There may be an element at play of which you were not aware, such as the other driver's partial fault or a hazardous road condition. It's best not to take any legal action or give statements before you consult a Las Vegas auto accident attorney.
Check for injuries. Check to see if you or other parties have injuries. Immediately request an ambulance if there are injuries and call the police. Don't assume someone else has already called for help. Do not move injured people unless they are in imminent danger; moving an crash victim can make minor injuries major. Stay with the injured person, remain calm, and make the individual as comfortable as possible while you wait for emergency assistance.
Report the crash to police. In Nevada, you must report a car crash if it results in injuries, death, or more than $750 of property damage.  However, we recommend that you always call the police to report a crash as the Las Vegas Metropolitan Police are now responding to non-injury collisions as well. You must either call the police or submit a Report of Traffic Crash within ten days of the collision. Stick to the facts when speaking to police officers. Give as detailed an account as possible, including the directions both vehicles were traveling and the names of any eyewitnesses.
Remember To Exchange Information
Gather information. Collect as much information about your crash as possible. If you are able to stay on the scene of the crash, gather information and record facts about the crash while they're still fresh on your mind. Take down the name of the officer who arrives on scene, and the information of anyone who was involved in the collision or who saw what happened.
Here is a list of information you should exchange with the other party.
Full Name
Phone Number
Address
Email Address
Insurance Company Name, Address, and Phone Number
Policy Number
License Plate Number
Driver's License Number
Take photographs. If possible, use a camera or a cell phone to take photos at the scene of the crash. Take pictures of your vehicle, other vehicles or property damage, injuries, the roadway, and any other relevant details. For example, if a tree obscured a stop sign, making the other driver roll through an intersection and crash into you, take a photo of the hazardous condition. Photos can serve as inscrutable evidence during car crash claims and cases. Take as many pictures as possible. Something in the background may be of vital importance to your case that an experienced attorney may notice. Take as many pictures as possible to ensure no detail is missed.
Don't talk about your physical condition with anyone. Don't tell anyone that you're not injured because you may have injuries that you're not aware of at this point. Regularly, the adrenaline surge that happens when you're in a crash will mask any pain or injuries that you suffered. When the adrenaline wears off, however, you might find that you're in intense pain, so don't make any assumptions immediately.
Get a lawyer. One of the most important things to do after a crash in Las Vegas is to speak to an attorney with qualifies practice areas as soon as possible. To protect your rights, you will need legal advice before you speak to the insurance company and provide a statement of the events. Insurance companies have become very aggressive in contacting victims of collisions quickly after the event. Insurance companies do so to get a recorded statement of your injuries and the collision to use against you at a later date. This is why it is imperative to speak to an attorney as soon as possible after the event to ensure the insurance companies don't trick you into providing statements that will lower the value of your case.
Create a crash file. If you think you will need to take legal action to pursue compensation for your crash-related damages, create an organized file documenting everything from the crash. This includes the police report and any medical documents. The more information you can gather, the stronger your case.
Contact a Nevada Car Accident Attorney
The experienced team at Valiente Mott has had great success in representing victims of motor vehicle accidents.  For a free consultation, contact our team today.
Common Causes for Auto Accidents in Las Vegas
Below are some of the major reasons for the needless injuries and deaths that occur on our roadways every year.
Estimates vary, but the American Auto Association attributes 25 to 50 percent of all traffic collisions to distracted drivers. Sadly, reckless and negligent drivers engage in distracted driving simply because they think they can safely multitask. Yet, it is impossible for drivers to ensure they don't injure others when they are using a mobile device, eating, drinking, or otherwise not paying attention. According to the National Highway Traffic Safety Administration, 3,477 people died from distracted driving in 2015. In fact, texting and driving is one of the most dangerous forms of distracted driving.  If you or anyone you love has been hurt due to someone's distracted driving, you should contact an experienced car accident lawyer in Las Vegas to help you receive fair settlement.
Drunk driving is a primary cause of preventable motor vehicle crash deaths and injuries across the country. According to DrinkingandDriving.org, on the average, around 12,000 people die every year in DUI-related collisions, approximately 900,000 drivers are arrested per year for DUI/DWI, and a full third of those have been arrested for drunk driving previously.
The majority of drunk-driving crashes in Clark County areas occurred on the weekends, with fatalities peaking on Saturdays and serious injuries peaking on Sundays. In 2015, 30% of all Nevada roadway fatalities were the result of driving under the influence. Valiant Mott is a car accident attorney Las Vegas residents trust because we have substantial experience getting compensation from drunk drivers. 
Fatigued Drivers
You'll hardly find a car accident lawyer in Las Vegas , NV who hasn't dealt with a fatigued driver case through their practice. Drivers falling asleep at the wheel cause almost 100,000 crashes annually, according to National Highway Traffic Safety Administration (NHTSA) data. Even when they haven't fallen asleep, fatigued drivers may drift out of their lane, travel the wrong way on a one-way street or highway entrance ramp, or react too slowly to changes in road and traffic conditions.
Driving when over-tired is negligent driving, and when it causes injuries and fatalities, the driver may be held liable for the injured parties' damages.
Speeding
Speeding increases a vehicle's stopping time thereby making a high speed crash more likely to happen, and even increases the severity of the impact when a crash occurs. The Insurance Institute for Highway Safety reports that when speed increases from 40 to 60 miles per hour, the energy released on impact doubles.
Speed kills. If you've suffered injuries caused by a speeding driver, you have a right to claim compensation for your damages. Contact the experienced car accident attorney Las Vegas relies on.  Valiente Mott knows how to protect your rights.
Aggressive Driving
Road rage and aggressive driving are surprisingly common: a truck tailgating a motorcycle, aggressive lane changes, obscene gestures and language, flashing of lights to indicate anger, cutting other drivers off, blocking drivers from making changing lanes, refusing to yield the right of way, or even physically assaulting other drivers are behaviors that can result in serious collisions.
There is no excuse for this kind of risky behavior, and aggressive drivers must be held responsible for the damage they cause. If you've been hurt in a crash caused by an aggressive driver, it's vital you consult an expert auto accident lawyer in Las Vegas to protect your rights to a monetary recovery of your damages.
Failing to Adjust Driving to Weather Conditions
All drivers must take appropriate precautions when driving in bad weather to avoid causing injuries to themselves or others. That means slowing down when visibility is poor and allowing extra stopping distance when the pavement is wet and slippery. If a driver fails to adjust to weather conditions and causes a poor road conditions accident, he or she may be held liable for the injuries to others as a result.  If you've been a victim of another driver's failing to make necessary precautions, contact an experienced automobile accident attorney in Las Vegas to help you build a strong case.
Malfunctioning Equipment
If you have been involved in a car crash and a portion of your injuries were caused by a defective product in the automobile, you may have a second case to seek compensation. With the help of a successful Las Vegas car accident attorney and their valuable resources, you could reach a fair settlement.  In recent years, many people have experienced additional injuries during a crash that are caused by defective airbags, tires, and ignition systems; stuck acceleration pedals; brake system failures; and master computer failure while the car is in motion.
Many of these items are currently under recall, but this does not absolve the manufacturers from responsibility. Your accident lawyer will be able to determine if any of your injuries were related to a manufacturer defect and if so, you are entitled to seek compensation.
Common Types Of Auto Accidents & Additional Causes
Above are only some of the common causes to motor vehicle accidents, some other causes are even identified by the types of accidents such as rear end collisions.  Below are additional types of accidents that our auto accident attorneys have valuable experience in dealing with.
We would like to hear from you so we can provide you with a free evaluation.  It's best to always consult with an Injury Lawyer for any type of legal advice regarding your injuries.
Only the best car accident attorney in Las Vegas will come to you for a free consultation like our professionals do.  If you have a question or you are just not sure about putting together a case, let our Las Vegas Injury Law Firm help with your concerns.  We take no fees from our clients unless we win.
Contact us today at 702-623-2323 for a FREE CONSULTATION
I have never had to use a personal injury lawyer before and I was referred to Mike from a friend. The entire time he was able to answer my any question I had and made me feel confident I had someone who was in my corner. Even during COVID they continued to work from home and check in during treatment and got everything resolved as quickly as possible. If I ever need representation again they will be the first call I make. Thank you Mike and Jocelyn.

"The most responsive, attentive, professional and trustworthy law firm in Vegas. I highly recommend anyone to look into Valiente Mott as their first option for legal council. I couldn't be more thankful for the way they took care of my case. Big thanks to Tim and his team!"

Tim and his team are great! They were quick to respond whenever I had a question about my case or if I had any concerns. I'm very appreciative with everything this law firm has helped me with. Thanks guys for being so professional!

Through this means, I thank the good work of the lawyer Valiente and Joselyn ... I was very satisfied with his great work and patience and of course the honesty with which I was treated .. Thank you and now it is time to change my check .. .;) por medio de este medio , agradesco el buen trabajo de el abogado Valiente y joselyn ... quede muy satisfecho por su gran trabajo y paciensia y claro la honestidad con la que fui tratado.. gracias y ahora es tiempo de cambiar mi cheque ... ;)